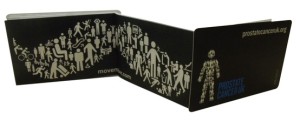 Now that you've found the perfect way to promote your business with our innovative pocket media, let's get started customizing it!  At Z-CARD, we work with a creative team of graphic designers to get your custom Z-CARD made just the way you envisioned it.  Here are some things to keep in mind when you are creating your first Pocket Media card.
Choose which style Z-CARD is right for you! You can choose from our original format Z-Card, a C-Fold, which is a single accordion, or the K-Fold that has a double accordion.  Check out all of our designs and fins the one that best suites your campaign.
Whether it's just the finishing touches or a start-to-finish design, our in-house team will work with you to turn your big idea into a reality.
Make your individual card stand out with a custom shape. We are able to print your pocket media to a unique shape that displays your company in the best possible way optimizing your target audience.
There are so many different enhancements, like card finishes, tabbing and shrink wrapping, card holders, and digital "Bridge" technologies.  There's no better time than now to get started with your one-of-a-kind pocket media card.  Visit our website at ZCardNA.com and get started with your customized campaign today!