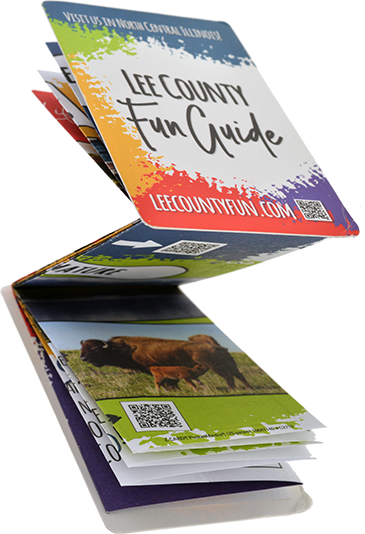 Print for a digital age…
The Lee County Fun Guide promotes 8 local sponsors and 22 different organizations and points of interest for fun – including area events, museums, dining, lodging, outdoor activities, and more.
The Guide serves up a large amount of dynamic content (along with a cute map) for visitors, and all of it launches from 14 QR Codes on a credit card-sized Z-CARD.
The benefits of this elegant approach are:
Steers visitors to exactly the content they want while launching from a background of the whole county
Allows each sponsor and attraction to revise content as needed – fewer reprints
Allows all stakeholders to track visitor click-throughs
People value and keep Z-CARD's fun, tactile format
Let us show you samples, or contact us for information about how Z-CARD can improve your communication mix.