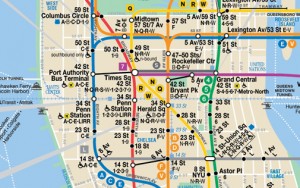 Despite the popularity of many digital apps for travel information, transit authorities in a variety of communities use Z-CARD ® pocket maps to create high impact and long-lived communications.
It turns out many people still like paper for their pocket maps and quick reference information.New York MTA, Chicago CTA, Atlanta Marta, San Francisco VTX and Amtrak are big transit players moving millions of riders all the time while using Z-CARD® pocket maps in their communications mix.
Durango Colorado Transit, Wichita Transit and Pima County (smaller transit systems) have serious communication challenges with their riders. The Z-CARD® helped them communicate with people in a manner that is user-friendly, always available, age-appropriate, technologically agnostic and long lasting.
While pocket maps are a standard device for transit the need for schedules, fare guides, safety, and transfer information is also paramount.
Why are these governmental agencies choosing Z-CARD® for their pocket map needs?
The mapping – Z-CARD® pocket map is a fully folding poster joining between 24-48 small book pages or individual screen spaces into a complete map display. This makes the pocket map easy to use, open and fold.
The covers – Z-CARD® pocket maps are bound between 2 hard covers. This creates a small hard cover book that protects it and creates a sense of value to the owner (We are trained never to throw away a book).
Fare media options – Fare card slots and sleeves help riders keep their fare media and their pocket maps together in one place.
Clutter – Do visitors really want to download another app to their device and learn to use it for a visit? Many older consumers are not interested in this trend. A simple in-hand tool with a pocket map does the job.